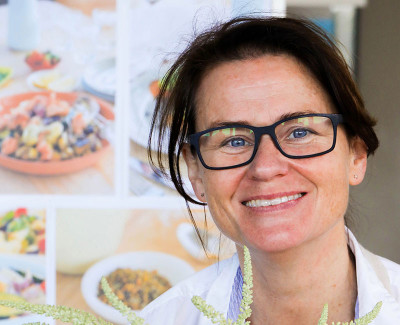 Emma Ellice-Flint
B.Sc. (Health Sciences) (Nutrition) Advanced Diploma in Nutritional Medicine.
Nutritionist
Clinical Nutritionist and former chef Emma Ellice-Flint is passionate about making a difference to people's lives through food and nutrition. She founded her practice 'Emma's Nutrition' with the aim of giving patients the knowledge they need to create healthy lives for themselves and their families.
Emma welcomes and treats patients with all conditions but digestive wellness and hormone balance are topics close to her heart. So much so that she wrote two evidenced-based cookbooks - one about female hormone balance called The Happy Hormone Cookbook; And another niche cookbook, Bone Broth Bible, about healing the lining of the gut.
She brings together 7 years of clinical experience, evidence-based nutritional advice, a wealth of knowledge about food and the excitement that goes with that understanding.
Emma originally trained in hospitality at Ealing College, part of the University of West London. The most enjoyable component of the three-year course was always the chef classes. Once qualified, she worked in marketing for international hotels in London. However Emma's passion was always food – eventually she took off the business suit and put on her chef 's whites. In London she cooked on a myriad of events, large and small, such as cooking at the Queen's Garden Party and at the Wimbledon Tennis Tournament.
Arriving in Sydney, Australia in the 1990's she cooked for a varied audience including politicians, royalty and celebrities. Her keen interest in health saw her combine healthy, wholesome food into her work, taking advantage of the beautiful and abundant produce of Australia.
In 2007 Emma decided to make that interest in nutrition her full time profession, hanging up the chef 's whites and undertaking full-time study, qualifying as a Bachelor of Health Science (Nutrition). Emma regularly attends ongoing professional education, keeping up to date in the field of nutrition, and apart from clinic work, runs nutrition cooking workshops and talks across the UK and Australia.
Appointments with Emma are available at Stratford-upon-Avon in person or by video link on Tuesdays and Wednesdays.
To book an appointment or course with Emma online or at our Stratford-upon-Avon centre, please call us on 01789 595004 or email info@newsonhealth.co.uk.